Val-Thorens
Extraordinary off-piste areas
Val Thorens is the highest resort in Europe, lying deep in the heart of the Alps. It is dominated by the immense Aiguille de Péclet, the starting point for some exceptional off-piste adventures and excursions.
The quality of the lifts saves precious time, offering rapid access to untouched terrain, like Col de Thorens. As we glide away from the chair lift, we are already on the glacier, ready to install the climbing skins and switch our boots and bindings to "uphill" mode. All that remains is to choose our destination: west side of Péclet? Or the Maurienne side? This time, we opted for a good 600m altitude climb in an impressively quiet atmosphere, bathed in magnificent light, surrounded by breath-taking views from Mont Blanc to Ecrins, with a few Italian peaks capping the horizon.
After just a few minutes, the magic of high altitude ski touring is already palpable. Perceptions are heightened, as if the landscape becomes clearer, the colours more intense, the world more beautiful. A sensation of freedom as, step by step, we progress through the immense deserted expanse of the silent, debonair glacier, with only a handful of crows spiralling above.
The slope is slight, with no technical difficulty for our little group. Our guide takes a moment to reveal the secrets of conversion, an essential method to enable progress without over-tiring while ski touring. A slight rotation of the knee, while standing nice and straight; that's all there is to it!
We never lose sight of the edge of the ski area, which is just a few downhill turns away: very reassuring for a first excursion into unknown territory.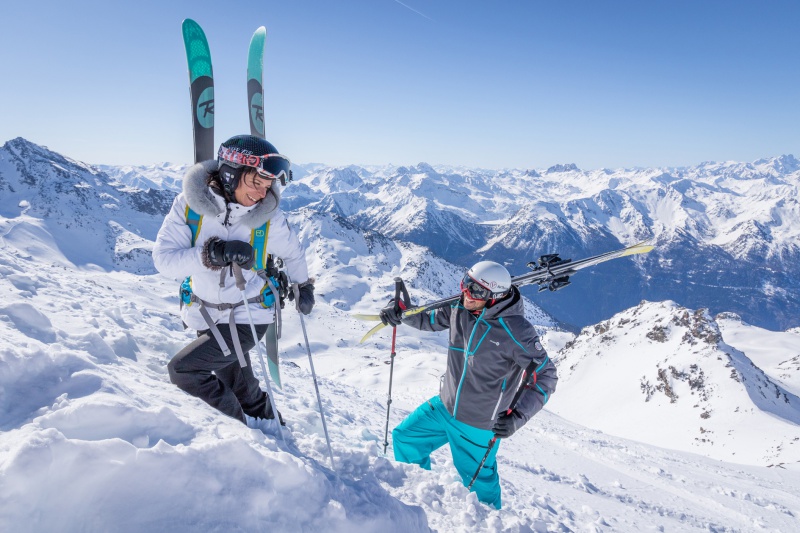 Val Thorens offers this rare possibility of ski touring on a glacier surrounded by peaks and walls, so close to the slopes. It is also possible to head down via the western side of Aiguille de Péclet, carving out your way back to the resort, opposite the setting sun, for sensations on another scale entirely. Maybe next time…
Our residences