Arc 2000
Arc 2000, an island with altitude


Take a break from the world outside and head up to the dizzy heights of our open spaces. This is the offer from Arc 2000, surrounded by mountains. Arc 2000, more than any other resort, is truly nestled in a snowy cocoon. Immerse yourself in the altitude experience!
Each resort has its own culture, stemming from its history and the character it has developed. Arc 2000 is one of a kind: the latest addition to the ski area of Les Arcs, at the very end of the road, an island in the mountains, at the foot of the majestic Aiguille Rouge.
This elegant peak dominates the whole Arc 2000 area, set out as a wide valley, whose slopes offer accessible, pleasant and recreational skiing for all. Even novice skiers can enjoy the slopes of the resort. For example, the boardercross areas offer fun routes for several skiers at once, to be enjoyed with friends and family.
The more sporting among you will head up on foot to the top of Aiguille Grive, to view the full panorama of the Alps. This incredible view point is just a few minutes' walk away... but make sure you're in good company, as this is an off-piste area.
Aiguille Rouge is one of those places that seems to have been designed specially for ski enthusiasts, with its 7km slope.
Arc 2000 is actually a miniature ski resort in itself: human-sized with shops, its own atmosphere and activities (such as the ice rink) all at hand... and you'll soon forget about your car during your stay in this pedestrian resort. Over thirty years, its architecture has changed too, adapting to changing trends with residences designed as cosy chalets.
"There is a feeling of a high-altitude resort, surrounded by peaks, with Aiguille Rouge and Aiguille Grive in the midst of the mountains, and Mont Blanc always on the horizon. It helps you disconnect totally from everyday life, and really make the most of the cosiness of the natural surroundings", explains one regular visitor.
Finally, a word of advice if you really want to experience the spirit of the place, head for the secret Belliou La Fumée restaurant, right at the bottom of the resort. It is a true haven of peace and mountain culture, with traditional dishes to warm your body and soul. The name of the chalet, borrowed from a Jack London character, is like a voyage in itself.

Our residences in Les Arcs
Ski area
The Paradiski area extends from 1,200m to 3,250m.
An altitude difference of 2,000m
Downhill skiing
Cross-country skiing

435km of downhill ski slopes
70km of cross-country ski slopes
Snowboarding and other winter fun
2 snowparks
5 boardercross
2 half-pipes
Rodeo Park sledging run
See the slope map
Activities
Swimming pool

Skating rink

Rambling

Racket hiking

Tobogganing

Mountain biking

Night in igloo

Spa

Paragliding


Getting to the resort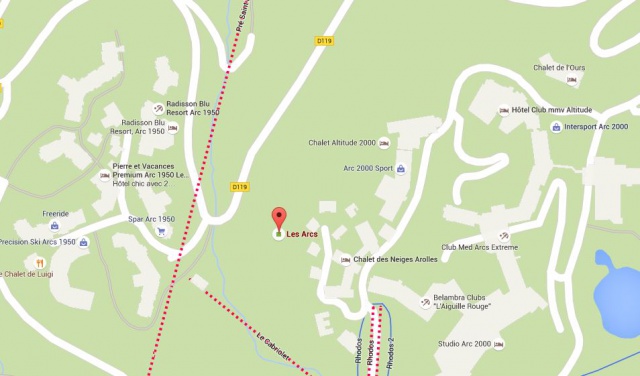 By car
Take the motorway to Albertville, then follow the signs to Moûtiers before taking the RN 90 to Bourg Saint Maurice. Follow the signs to Les Arcs.
Caution: the mountain passes are all closed in winter. It is advisable to inquire about snow conditions on the roads before setting out.
By train
SNCF - Bourg-Saint-Maurice station: access to Les Arcs with the Autocars Martin coach company.
Information and booking on www.autocars-martin.com or +33 (0)8 20 32 03 68 (special rate hot-line for France)
TGV-Thalys-Eurostar
Tel.: 36 35 from France
Tel.: +33 (0)892 353 535 from abroad
Website: www.voyages-sncf.com
By bus
Bourg Saint Maurice coach station - Tel. +33 (0)4 79 07 04 49
Transport with "Altibus" from Geneva airport: www.altibus.com - Tel.: +33 (0)4 50 43 60 02
Transport with "Satobus Alpes" from Lyon airport: www.satobus-alpes.altibus.com - Tel.: +33 (0)4 79 68 32 96
Transport with "AG Bus" from Grenoble airport: www.agbus.fr - Tel.: +33 (0)4 76 27 89 29
By plane
Chambéry (125km)
Geneva (175km)
Lyon Saint Exupéry (205km)
Grenoble (173km)


Car rental in Bourg Saint Maurice:
Europcar: +33 (0)4 79 04 04 20

Information:
Weather: +33 (0)8 92 68 02 73
Snow: +33 (0)8 92 68 10 20
Roads: +33 (0)8 92 02 20 22

Via funicular railway:
To travel between the different resorts of Les Arcs, a regular shuttle service (free) operates from 7.30am to 7.30pm.

Dog sledding

Slip into your role as a Musher, feel the strength of the dogs pulling the sled, absorbs the impulse with your knees...

Read the article

Arc 2000, innovating in the field of winter sports

Few resorts in the world can claim to have witnessed the birth of so many new forms of winter sports since the 1980s.

Read the article

Aiguille Rouge, one of a kind

This sector of Arc 2000 is almost like a resort within the resort, a ski area in itself.

Read the article