La Rosière
La Rosière, ski and more ski


For those who like to have the option... of both! That is the promise of La Rosière, an unusual resort, straddling two countries, France and Italy. Weather, snow, a warm welcome, easy progression for children and good food: here, you have all the benefits of skiing... on both sides!

It's not all that common to reach the top of a drag lift and cross a national border. But that happens several times a day in La Rosière and the San Bernardo area, as you pass, skis first, from France to Italy, without going through customs.
Two atmospheres for skiers, on either side of the pass. On one side, La Rosière with its wide, easy slopes, overlooking the Haute Tarentaise valley: "The resort gets a lot of sunshine, even in December, you can ski late in the sun, which is quite rare. There is a magnificent panorama over Mont-Blanc", relates Cédric Pugin, a professional skier who often comes to these French-Italian slopes. On the other side, skiing down into Italy, the slopes pass through the forest, winding their way down to the bottom of the valley. Even novices can enjoy international skiing here!
La Rosière is heaven for children, offering very easy access to the snow: children's ski garden, 4 free drag lifts, one of which is a tunnel conveyor, free ski pass for under 5s. La Rosière's originality also stems from other discreet but effective attractions, such as the possibility of coming by train to Bourg Saint Maurice, then the shuttle service to the resort.
Depending on the wind and snow fall provided by perturbations from the west or east (the famous easterlies carrying snowflakes), conditions are always good on the slopes. "You can play one side or the other" confirms a local skier, adding "when there is lots of snow, you can even ski at low altitude in the fields around the villages, which is pretty unusual".
Ski touring is popular in the resort with three new free, secure trails set out to discover the discipline and the mountains at your own pace. Ecudets, for example, is a twisting trail up through the forest. A great opportunity to change speed after some downhill skiing.
On the table, Italy also has its share of welcoming restaurants, with cappuccinos to melt glaciers and pasta to warm even the chilliest skiers. A change of air (and accent) with just a few turns in the sun!

Our residence in La Rosière
Ski area
A French-Italian ski area with 160km slopes at an altitude of 1,200-2,650m.
37 ski lifts.
Downhill skiing
160km ski slopes

13 black runs
31 red runs
25 blue runs
8 green runs
Cross-country skiing
6km cross-country tracks
Snowboarding and other winter fun
1 Boarder Cross
1 Snowpark
1 Snow Cross: a natural, ungroomed but secure area
See the slope map
Activities
Skating rink

Ski touring

Helicopter

Racket hiking

Spa

Paragliding

Bowling

Movie theater


Getting to the resort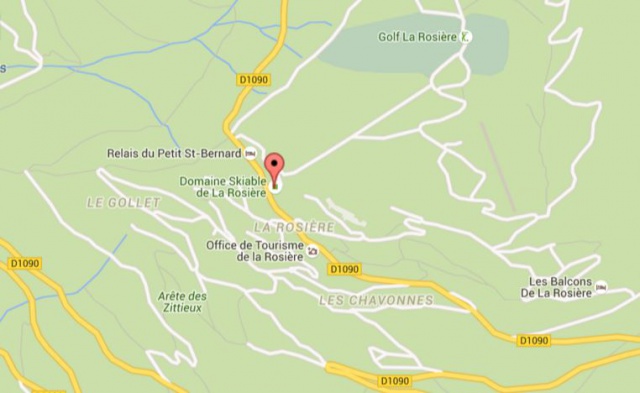 By car
Take the motorway to Albertville, then follow the signs to Moûtiers before taking the RN 90 to Bourg Saint Maurice. Then take the RN90 towards Col du Petit Saint Bernard / La Rosière
Caution:
Col du Petit Saint Bernard is closed in winter. It is advisable to inquire about snow conditions on the village roads before setting out.
By train
SNCF - Bourg-Saint-Maurice station: access to La Rosière with the Autocars Martin coach company.
Information and booking on www.autocars-martin.com or +33 (0)8 20 32 03 68 (special rate hot-line for France)
TGV-Thalys-Eurostar
Tel.: 36 35 from France
Tel.: +33 (0)892 353 535 from abroad
Website: www.voyages-sncf.com
By bus
Bourg Saint Maurice coach station - Tel.: +33 (0)4 79 07 04 49
Transport with "Altibus" from Geneva airport: www.altibus.fr - Tel.: +33 (0)4 50 43 60 02
Transport with "Satobus Alpes" from Lyon airport: www.satobus-alpes.altibus.com - Tel.: +33 (0)4 79 68 32 96
Transport with "AG Bus" from Grenoble airport: www.agbus.fr - Tel.: +33 (0)4 76 27 89 29
By plane
Lyon Saint Exupery international airport: www.lyon.aeroport.fr
Chambery-Aix airport: www.chambery-airport.com
Geneva international airport: www.gva.ch


Car rental in Bourg Saint Maurice:
Europcar: +33 (0)4 79 04 04 20

Information:
Weather: +33 (0)8 92 68 02 73
Snow: +33 (0)8 92 68 10 20
Roads: +33 (0)8 92 02 20 22

Marked trails for ski touring: the pleasures of raising the heel

Downhill skiing is undergoing a quiet revolution: that of heel raising.

Read the article

The mountains in summer… in action mode!

La Rosière is also active in summer.

Read the article

An open air club for children

La Rosière is a winter wonderland with a particularly warm welcome for children.

Read the article